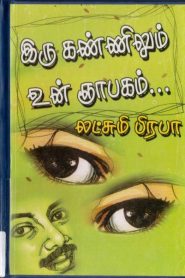 Iru Kannilum Un Gnabagam By Lakshmi Prabha
Lakshmi Praba has written close to 100 novels till now. She has written in different genres like family, love/romance, spiritual, etc. She writes regularly in monthly novels, and she is very famous among female readers. "Iru Kannilum Un Gnabagam" is a fantastic novel by her. I recommend you to read this book.
We try to give the latest PDF edition of this book on this site. Through the link, you can read or download the PDF file. The link is given below for readers' purposes. You can also read offline after downloading the file. Thank you.
Book Details:
Book Name: Iru Kannilum Un Gnabagam
Author: Lakshmi Prabha
Publishing Date: May 30, 2016
Publisher: Pustaka Digital Media
Total pages: 149
PDF Size: 35 Mb