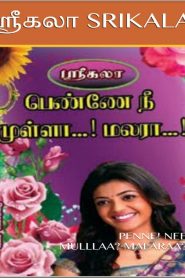 Penne Nee Mulla Malara By Srikala
Penne Nee Mulla Malara by Srikala is a fiction novel. This is an interesting book written by the author that contains made-up situations with romanticism and how it feels to be in the situation is depicted by her simple narrative style. Srikala is a prominent Tamil author of this decade. She wrote over 50 novels like this to dispel the misunderstandings of relationships.
You can read the book here for free online. To read the book offline, download the PDF file from here.
Book Details:
Book Name: Penne Nee Mulla Malara
Author: Srikala
Total pages: 214
PDF Size: 7 Mb