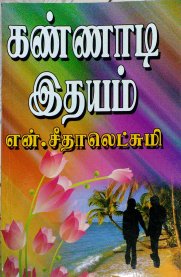 Kannadi Idhayam By N Seethalakshmi
Tamil literature plays an important role in Indian literature. N Seethalakshmi is a popular author in South Indian Tamil literature. She shows talent with her writing. She writes novels, fiction, thrillers, etc. Kannadi Idhayam is one of them. It is a fantastic book. If you are interested in this book, you can read or download the PDF file from this site.
You can also read it offline after downloading the PDF file. In 2012, Arunodhayam publications published the book. The book contains 175 pages with 11 MB. The download link is given below.
Book Details:
Book Name: Kannadi Idhayam
Author: N Seethalakshmi
Genre: Novels
Publisher: Arunodhayam
Publication Year: 2012
Total pages: 175
PDF Size: 11 Mb